Posted on December 21, 2015 by under
Having your fluffy companion in the office has long been associated with reducing work related stress, increased productivity and improved staff moral! Over the festive period this year the C-SAM team has been joined by a special team member…Rocky, the long haired ginger Chihuahua.
Rocky joins the team most Fridays and his main responsibilities while in the office include ; hoovering in the kitchen, keeping laps warm when the office is cold, and exercising the humans during 12-1pm. Although the C-SAM office operates a dress down Friday, Rocky is often found smartly dresses ready for day ahead.
Rocky is available during the hours of; 9.00-9.30 , 11.00-11.15 , 12.00-1.00 and 3.00-3.15 (or any other time food is being consumed). The remainder of the day you can find him in his office on his chair.
But in all seriousness, various studies over the last 3 years have identified the many benefits of having pets in the office. Below we have highlighted what we feel are the top 3 benefits of having your animal companions in the office.
STRESS REDUCING
Animals interaction can help you relax, reduce your heart rate and lower your blood pressure; ultimately helping in reducing the influencing effects of stress. A US study in 2012 concluded that employees who were around animals in the workplace had higher work moral and felt less stressed then those who are not. Just 5 minutes interaction with your office pet can help you relax, refocus and recharge.
IMPROVED HEALTH
One of the many side effects related to stress is its impact on your immune system. If employees are regularly stressed they are far more likely to fall ill and be absent from work. As mentioned above animals in the work place have been found to help reduce stress and there for help reduce stress related absences. An additional health benefit of animals in the work place is increased exercise. Staff will go out during lunch to walk their pets, getting them up away from their desks, exercising and getting fresh air. All positive actions to help improve mental and physical health at work.
"…employees that take a break to walk their dog seem to return to work in a more productive and positive frame of mind." – The Guardian; David Levene
TEAM BONDING
Recent studies have also highlighted the benefits animals in the work place can have on team bonding. Animals can create a shared interest and conversation topic for colleagues which can create a connection that may not have otherwise arisen.
"Dogs are communication energiser. Dogs in the office tended to spark conversations between those with and without pets, and people who didn't typically talk to one another, were now more engaged with dogs in the office." – The Guardian; David Levene
So in honour of Rocky and all the office animals out there, C-SAM will be making a donation to the Scottish Association for Mental health charity.
Posted on December 18, 2015 by under
This year C-SAM have been fundraising for what we feel is a fantastic local charity, Aberdeen Cyrenians.  The charity is a life line for so many in the Aberdeen area and all year round help support, council and shelter many of those whom have no one to turn to and nowhere else to go.
Aberdeen Cyrenians started in 1968 with a soup Kitchen run from Castlegate in the city center. Since then the charity has opened women's hostels, day centers, emergency accommodation for young people, community and housing support, employment and education services and so much more. Over the last 47 years Aberdeen Cyrenians have helped an estimated 50,000 homeless people or people at risk of homelessness in and around the Aberdeen area.
This year Aberdeen Cyrenians are holding a special Christmas appeal to raise funds for people in Aberdeen who are facing homelessness and hardship this winter. Just £5 could provide shelter and warmth as well as a week worth of meals, showers and laundry facilities to someone sleeping rough over this festive period.
Its that time of year to think of others and help those around you who have so little. We would like to ask everyone who can to donate £5 to help those less fortunate this Christmas.
To donate please visit our fund raising page found below. We alongside Aberdeen Cyrenians and all those the charity have helped and continue to help, more than appreciate all the contributions already received this year from so many of  our clients,  friends and family.
Thank you.
https://mydonate.bt.com/events/csamcares/
Posted on December 17, 2015 by under
Day 7 of
#csam12daysofxmas
…We are all geeking out at C-SAM HQ today and to celebrate the release of Star Wars: The Force Awakens we are giving away a £20 gift voucher for Cineworld! Simply answer the below fact or fiction Star Wars questions correctly for your chance to win! May the force be with you!
To enter either head to our
facebook page
and comment on our competition post with your answers or email social@c-sam.co.uk
1. The planet of Nahmi is where Obi-Wan Kenobi and Qui-Gon Jinn saved Jar Jar Binks from being killed by a Federation Transport in The Phantom Menace.
2. In the return of the jedi the rebels successfully destroyed a shield generator on the planet Endor.
3. E.T.'s alien species are part of the Star Wars universe. A delegation of the aliens can be seen in the Galactic Senate.
Posted on December 16, 2015 by under
Day 6 of our #csam12daysofxmas and we're getting technical! Today we are sharing some of the technologies we think are worth watching over the next 12 months, not only because they are interesting but for the increasing relevance and potential application they have in the oil and gas industry.
Accessible 3D Printing
Although not a new technology 3D Printing has seen many advancements since its conception. For anyone who is unaware of what a 3D printer is;  traditional printers print squares, 3D printers print cubes.
One of this year's developments which is particularly interesting is the increase of materials now enabled for use, including; carbon fibre, metals, glass, and biological materials. Innovations in this field have been driven by increased consumer demand and the potential practical application in mainstream manufacturing and consumer markets. We are also seeing a rise in investment of 3D technology in industries such as medicine, aerospace and oil & gas.
"By taking steps now to understand how to leverage this technology, oil and gas companies will be positioned to disrupt their existing markets and penetrate new ones. By integrating 3D printing into the fabric of their operations, they will be able to transform the effectiveness of upstream supply chains, as well as bring new markets and new sources of revenue to their downstream businesses." Rich Holsman – A new dimension of opportunity – 3D printing's potential for the energy industry. The potential benefits of 3D printing for the oil & gas industry include increased supply chain effectiveness, lower equipment costs and reduced design lead time. 
The rise in affordable 3D Printers hitting the market, some as cheap as £200 per unit, will also have a positive impact on the accessibility and popularity as a consumer product. Business analysts are predicting that the low cost 3D Printer industry will double in growth year on year until 2019. This is a technology that is certainly showing no signs of slowing down in the near future.
Internet Of Things
Over the last few years there has been a steady increase in conversation and development surrounding the concept of  Internet of Things (IoT).
Imagine this – your bin talks to your fridge, they both decide that you're all out of milk, and they let you know this by texting you… seems pretty crazy granted but this is essentially what IoT does!  IoT technology provides a tangible link between inanimate objects, information and knowledge.
The predictions for IoT for 2016 are simple;  continual and extensive inter-connectivity between software, hardware and ourselves. Our cars, businesses, homes and even cities are expected to be connected and 'talking' to the Internet of Things.
Next year will see a rise in mainstream use and application, with the likes of Insurance companies rolling out sensors and software that  monitors their customers driving behaviours to ascertain what level of cover is appropriate. We will see more wearable technology uses for IoTs, especially in personal health and medical industries. With the advances in sensor technology Google have created their smart contact lenses;  developed for diabetes patients these lenses will have micro sensors that will read the individual's glucose level from their tears. The collected data will be connected to an app which can be accessed through an individual's smart phone or tablet. 
The education and development of IoT will also become even more accessible with the increase of Raspberry Pi (RasPi)  technology. Rasberry Pi offers a complete Linux server in a tiny platform for a very low price ,which means it is highly accessible and very simple to learn how to use.
The use of RasPi and IoT technology  for businesses within the oil and gas industry is highly anticipated for 2016, with potential benefits of the technology identified  in  supply chain, asset management, insight analysis and customer relations.
Posted on December 15, 2015 by under
It would be difficult for us to see out this year without looking back over the last 12 months and reflecting on what has been a disruptive and challenging year for the whole industry. Many in the industry have been adversely effected by the oil price down turn and now the challenge of adapting to the conditions and working together as an industry has never been more important.
Having been in business for 20 years, this past year has been, by far, the hardest that I have experienced. The events of this year have transformed the way businesses are operating in the industry and have changed the way we work indefinitely. We all must adapt to the changing landscape, an important part of this being the need to work together and to invest and strengthen the partnerships we have created over the years. It is together as an industry that we overcome diversity and challenges, and ensure the longevity and success of our businesses.
For me there were four key areas that played a pivotal role in my year as an individual, and business owner.
Innovation
In my opinion this is the ideal time to get innovative. New technologies, approaches and business models that challenge industry norms and give the company, and its employees, new reasons to be excited for the future.
Positivity
I am a very positive person and I believe this has been a major factor in the achievements we have realised over the year. I believe in inspiring people to be great at what they do and give them the opportunity to succeed.
Staff Morale
One of the most challenging aspects of this year has been maintaining staff morale as we, like most other companies in the industry, have had to make some very difficult decisions. For me, reassurance, positivity and transparency has played a large part in maintaining moral within the team. I have always operated an open door policy with staff, which has allowed me to address issues and help staff where I can.
New Markets
I don't think many would argue that we in the oil and gas Industry have become complacent over the last 10 years. The longevity of high oil prices led many of us into a false state of security which sadly made us as an industry very vulnerable. However, this downturn provides us with the opportunity to reflect and iterate upon our approach as well as reach out to other markets. Our Marketing Strategy has had to change over the year as we focus on developing opportunities overseas.
May I take this opportunity to thank all our clients, partners and employees, and wish you all a Merry Christmas and a prosperous New year.
Posted on December 14, 2015 by under
Its day 4 of our #csam12daysofxmas and we are running a little competition to decide who will get dressed up as Santa Clause this Friday to hand out the Secret Santa Office Presents!
To select which team member you would like to see dressed up as Santa head over to our facebook page and vote by either comment on the persons picture or #csamsanta plus the name of the person you would like to see as Santa and @ csamltd. The name will be drawn on Thursday.
Posted on December 11, 2015 by under
Surviving the wilderness that is your Christmas office party can be a challenging and scary task. Our survival guide will help you navigate around the common pitfalls and dangers that can be found on your travels.  We wish you the best on your journey and hope you survive with minimum injuries to your social and physical wellbeing.
HOW TO SURVIVE YOUR CHRISTMAS OFFICE PARTY
CHARGE YOUR WALKIE TALKIE
Seems simple enough? But alas the amount of times people get caught out by a dead battery. Make sure you charge your device of choice before you go out. In the event you get split up from the pack you'll be able to find your way back or even CALL HOME for a rescue!
EATING IS SURVIVING 
Survival 101 –  Get tactful with your meal choice as this may be the last one you have for a while! For the herbivores a pasta option is always a strong choice with the carbs helping to soak up excess fluid you may be taking on. For carnivorous a traditional Christmas dinner with all the trimmings is a perfect survival meal and will keep your energy up for the long trek ahead.


JUNGLE CAMOUFLAGE 
To ensure you blend into your surrounding jungle canopy make sure that you are equipped with suitable jungle camouflage. The camouflage tends to come in different forms but  Christmas jumpers, sparkly tops, Santa hats and bad ties are effective choices. Complete camouflage coverage is not always necessary but appreciated by fellow survivors.
BEWARE OF THE SHOT INSTIGATORS AND DRINK-TOPPER-UPPERS
These animals tend to hunt alone and seek out their pray by selecting the young cubs and the fresh members of the pack. Protection is simple – never make eye-contact, ignore all beverage advances, and keep your wits about you. These creatures are canny and well practices so never let your guard down!


WATER IS YOUR FRIEND
This simple and rewarding task does wonders for all Office Party survivors. Keeping a steadying flow of water will help reduce the effects of jungle poison and help you keep hydrated during the long sweltering pressure of keeping up with others.



FIND TRANSPORT
Try to cash in on a favor from a fellow adventurer, and secure return transportation from your Christmas adventure. Map out and allocated a rendezvous point and pick up, and make sure you get to the chopper when it lands! If all else fails try traveling in your group, this will help make the journey safer and cheaper.
AND FINALLY 
Make sure you have fun, It's Christmas after all!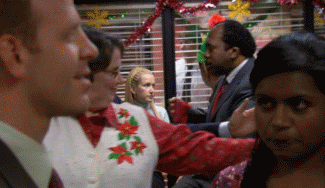 Posted on December 10, 2015 by under
The weeks leading up to the end-of-year Christmas holidays are normally jam packed with office parties, gift shopping, manic task completing and general Christmas spirit -whether you like it or not.
But for those of us that are heading back to the office between Christmas and New Year the energy and 'spirit' can sometimes be… well hard to drum up! Therefore we have created our Top 5 tips for keeping productive over the festive break. It's time to take advantage of the time between Christmas and New Year and survive the post-holiday slump!
Top 5 Tips for Staying Productive Over the Festive Break
1.  BE ORGANISED
To-do lists are a great way of keeping track of what you need to do and focus your post-holiday efforts in a productive way. If you are back to work on the 29th try create a To-Do list BEFORE you leave for winter break. This means you will have a plan of what needs done before you go and allows you to come back to work with a clear action plan.
2.  START YOUR SPRING CLEAN EARLY
The phones are quiet, you have forgotten what an email looks like, and you've completed everything on your to do list…. time to tackle your work space spring clean! Clean out those drawers full of paper work , tidying up your desktop folders and clear away any general junk that is clogging up your inbox! Early spring cleans are a great way to keep productive, and helps you prepared for a brand new year with a tidy environment.
Posted on December 9, 2015 by under
Today is the first day of our special 12 days festive blog series and we are happy to announce that it will all be kicking off with a competition!
Aberdeen has long been, and is still a city that attracts people from around the world to come and work in it's oil industry. For most, their family and friends will be half way across the world, making this time of year particularly tough. Therefore we thought what better way to kick off our series than with a search to find the best things to do in Aberdeen over the festive period!
We would like suggestions and recommendations for things to do, see or be a part of during December in Aberdeen. From your submissions we will be creating a 'Top 5 of thing to do in Aberdeen at Christmas' list and will be publishing this on Monday 14th December.
The winner of the competition will be the person who suggests the no.1 thing to do, judged by the C-SAM management, and will win a £25.00 gift voucher for Amazon, delivered straight to your email ready to use when you are!
To enter send an email to social@c-sam.co.uk or post to or on any of our social pages using the #csam12daysofxmas
Last entry accepted will be 12pm Thursday 10th December- Good luck!